Award Winning Lighting Design at NAB House from Intralux Australia
Location: Sydney, Australia
Client: NAB
Architect: Geyer
Builder: Lend Lease
Lighting Design: Cardno ITC
Lighting Designer: Julie Van Der Ley
Intralux Product used: Kove
'2012 IES NSW COMMENDATION AWARD WINNER. NAB HOUSE CLIENT FLOOR BY CARDNO ITC'
The design brief from NAB for their client floor was to create a high quality fit-out where key clients arrive to carry out their banking business. The natural light and good visibility of the harbor and city were to be maintained.
Accommodation was to be welcoming, warm and friendly with missed use of functions which includes discrete meetings, board room, training rooms with an operable wall and informal lounge areas.

Open breakout for relaxed casual encounters was lit with pendants and profile mounted in the metal slat ceiling. An intimate lounge area was lit with pendants and indirect coves. The internal corridor followed the geometric design were used as a gallery space.
A central continuous rebate was designed to follow the corridor and house services, eg. Sprinklers, AC grilles, emergency lights and smoke detectors. Spotlights and their rotation/tilt dictated the rebate width and depth. Design and direction of perforated ceiling tiles were to suit video conference lighting requirements.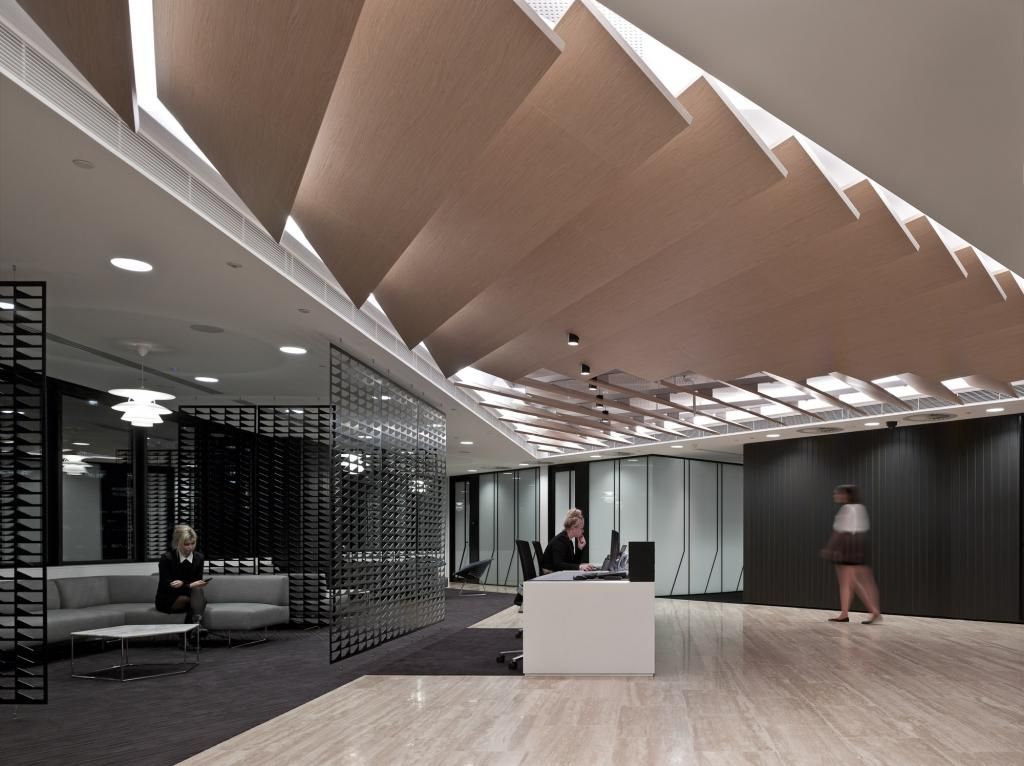 For long life and energy efficiency, LED and T5 fluorescent sources were employed. Dimmable fixtures were used in meeting rooms. As the use of this floor was for meetings and therefore a transient occupation, a presence sensing system was employed using microwave sensors to ensure lights were not left on unnecessarily.
A time clock allowed the reception, entry and corridor light to activate during the business hours and sensor activated after hours. A CBUS control system was used to control all the lighting in these spaces. This ensured easy interface for a variety of users. Scene settings were integrated with AV components and the stainless steel switch plates labeled to suit.
Visit www.koveprofessional.com NOW to see how Kove Professional can transform your next project into an award winner!